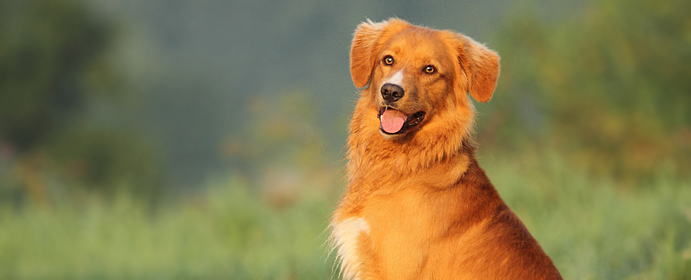 Whymark's Ocean Sunset
---
"Journey" is meine kleine Tochter aus Arras' dritten Wurf mit Georges Mutter Pink. Geboren in Italien brachte ich die kleine Hexe zu Jamie Klein nach Vancouver, Kanada. Jamie ist die Besitzerin von Georges Vater Max und so besitzen wir nun beide einen Nachkommen des jeweils anderen Deckrüden aus einem Wurf mit der tollen Manitou It's Glitter In The Air. Wir kennen uns seit 2013 und haben bereits viel zusammen erlebt!
Journey gehört Jamie und mir zu gleichen Teilen, leben und aufwachsen wird sie bei den Readyfor Tollers. Bisher ist sie eine schöne Kombination aus beiden Eltern - die tolle Fellanlage von Mama Pink und einen süßen "mädchenhaften" Eindruck - und ich bin überzeugt, sie bekommt Papa's lange Beine ;o) Sie zeigte sich als Welpe sehr aufgeschlossen und lebhaft und ich bin überzeugt, dass Journey eine tolle Zeit in Kanada haben wird - dass sie schon toll in Jamie's Rudel intergriert ist, davon haben mich schon viele Bilder und Videos überzeugt. Ich freue mich, in Zukunft viel von ihr zu hören und sie in Zukunft wiederzusehen.
---
"Journey" is my little female out of Arras' third litter with Pink who is also the dam of my own other male, George. She was born in Italy and I brought her over to Vancouver to Jamie Klein when she was a little over 9 weeks old. Jamie is the owner of George's sire, Max, and now we both own a puppy from each other's stud dog out of fabulous Manitou's It's Glitter In The Air. We met each other in 2013 and have had lots of adventures and fun times already! I am very proud and glad that Arras' puppy will hopefully be included in an oversea's breeding program.
I co-own Journey with Jamie and she will grow up and live at Jamie's Readyfor Toller Kennel in PoCo, Vancouver. She looks like a nice combination of both parents - she's got the grorgeous plushy coat from mom and a lovely feminine expression. She showed a lovely temperament and is very lively - I already have tons of photos and lovely videos that she arrived very well in Jamie's pack. I am looking a lot forward to hear lots from her and to see her again in the future. 

Thank you, Jamie, for taking this (literally) wild ride with me. What a journey (pun intended) it has been!